Hey friends! This month is absolutely flying by! I just wanted to give you a heads up to let you know that Sunday, December 16th is the last day that you can order from the Shop! and get guaranteed delivery by Christmas.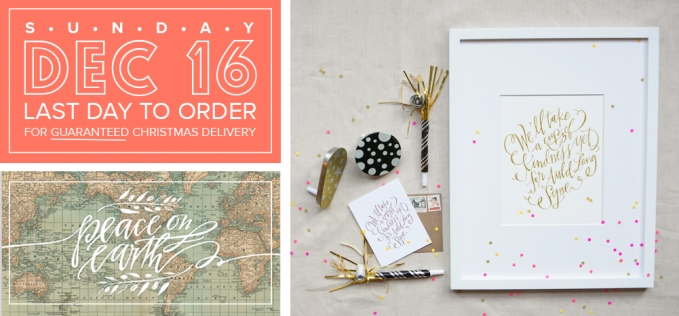 I have love love LOVED seeing all of your Gilded Greetings photos come in – what fun!!! And it's been so fun to see how they turn out. From hilarious to classic and everything in between, it's awesome to see how you all are making them your own. If you're interested in sending holiday cards but aren't into photo cards, check out the Holiday Mini Prints. Lots of stationers don't sell cards in very high quantities, but these packs are sold in sets of up to 25 cards – plenty enough to share the love with everyone card-worthy in your life!
If you're already looking on to 2013, we have a Gilded Greetings design, an Art Print, and a Mini Print that are sure to help you ring in the new year in style. (The print would make an excellent hostess gift!)
I hope your December is treating you well! I'm trying my hardest to live in the moment, (while the back of my brain is swirling with Valentines!). xo, L
YOU MIGHT ALSO ENJOY...